Tales of Triumph from Kerala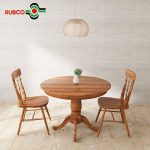 Rubco, officially known as the Kerala State Rubber Co-operative Limited, exemplifies the success of cooperative endeavors in the rubber industry. Established in 1997 by the Kerala government, Rubco's primary mission was to stabilize rubber prices and directly procure natural rubber from local farmers.
Located in Valiyavelicham KSIDC Industrial Estate, Kuthuparambu, Kannur, Rubco initially established five units. In 1999, it ventured into Hawai'i chappal production, crafting 3 lakh pairs annually. In 2009, Rubco started a rubber compound mixing plant with a monthly capacity of 2200 MT, supplying mixed rubber compounds to a major Indian tire industry. In 2011, Rubco began producing pre-cut tread rubber (tyre resoul) successfully. Additionally, a small pillow manufacturing unit, established in 2014, produces 75 thousand pillows monthly.
Over the past 25 years, it has evolved into a diversified conglomerate, globally recognized for its rubber-based products, coconut oils, and furniture. With an unwavering commitment to quality and innovation, Rubco has expanded its product range to include footwear, mattresses, and interior solutions. Rubco remains a leader in the cooperative sector, delivering exceptional products and services globally.