Tales of Triumph from Kerala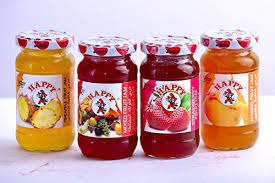 In the heart of Calicut, Kerala, a remarkable journey began in 1987 when two visionary brothers, Mr. M. Khalid and Mr. M. Basheer, founded S.L.K. Food Processing. With sheer determination and passion, they embarked on a mission to create delectable food products that would win the hearts of people across generations. Thus, the flagship brand "HAPPY" was born, which would soon become synonymous with taste, quality, and happiness.
Starting as a small unit with just three employees, S.L.K. Food Processing initially manufactured pickles, synthetic vinegar, and synthetic syrup under the brand name "Varieties." As the demand for their products grew, they evolved and rebranded as "Sabari," adding a delightful range of pickles and syrups to their offerings. The success didn't stop there; recognizing the rising demand for squash and jams, they expanded further.
In 1985, the company purchased land in Poovattuparamba, where a modern factory was constructed. Here, they introduced Ready-to-Serve (RTS) beverages in tantalizing flavors like Mango, Pineapple, and Grape. However, it was in 1987 that "HAPPY" was unveiled to the world. Under this brand, they marketed squashes, jams, pickles, soft drink concentrates, and vinegar throughout Kerala.