Women Entrepreneurship
We mission Kerala is an initiative aims to identify, promote and provide support to existing women entrepreneurs for scaling up their business ventures. The mission is targeted at developing a new culture of entrepreneurial thinking among the women in Kerala. The mission is being executed in association with Kudumbasree, MSME-DIC and CII and is expected to provide a complete range of support for women entrepreneurs.
Inspired by the success of Kudumbashree, a women-empowerment programme that promotes micro-entrepreneurial activities of women self- help groups, KSIDC realise that the time has arrive to boost existing women entrepreneurs in both rural and urban area.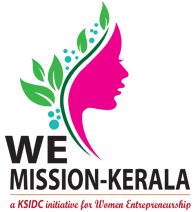 The official launch of the mission was held on 8th May 2015 at Malappuram by Shri.P.K Kunhalikutty, the Hon'ble Minister for Industries & IT. Dr. M. Beena IAS, Managing Director, KSIDC was present at the function. Further to the launch of the event, an interactive session with representatives from various Industrial bodies and other stakeholders was conducted. In addition to this, an exposure visit was arranged to a successful industrial unit "Sumix Kidwear (P) Ltd",Malappuram, owned and operated by a women entrepreneur.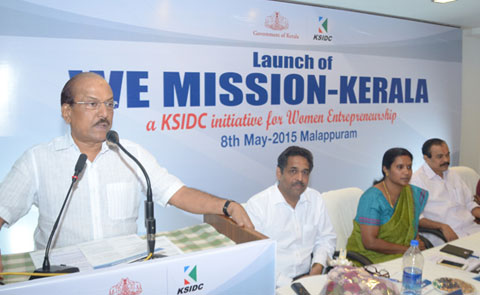 The second interactive meeting and exposure visit was held on 25th June 2015 at Kollam. The interactive session was followed by an exposure visit to two units owned by women entrepreneurs in Kollam, viz, J-Force Industries, a Solvent cement manufacturing unit at Kollam and M/s Arun Garment & fancy, Kids wear manufacturing unit, Kollam.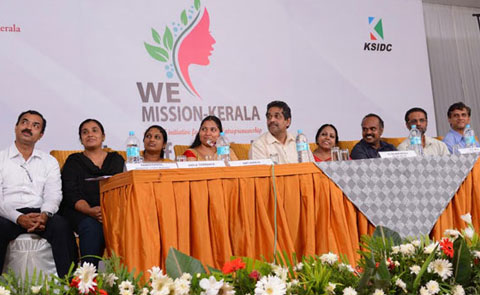 The third interactive meeting and the official curtain raiser for the WE Summit 2015 and the launch of the website for WE Mission Kerala, was held on 5th August 2015 at Thiruvananthapuram. After the interactive session, Shri.P.K.Kunhalikutty, the Hon'ble Minister for Industries & IT had officially announced the curtain raiser for the WE Summit 2015. Shri.P.H.Kurien, Principal Secretary- Industries, unveiled the website for the WE Mission Kerala.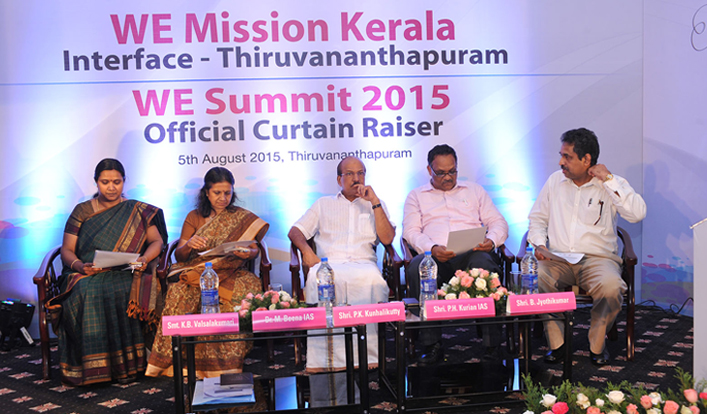 Focusing on scaling up the entrepreneurial talents and enterprises, WE Mission Kerala set a five pronged strategy as below to achieve the objectives;
Meet your Mentor: for continuous mentoring support
Conducts mentoring sessions/meetings for women entrepreneurs to provide them with necessary advice, guidance and support to build capacities in them for entrepreneurial leadership.
See to feel: Regular exposure visits to Successful Units
Unit visits and interactive meeting with successful women entrepreneurs in Kerala in their unit with a view to enable aspiring women entrepreneurs to learn working methods and employment practices etc..
Source the Fund : Funding support
Easy funding support being offered to eligible first generation women entrepreneurs for scaling up of their activities.
Launch the venture: Incubation & infrastructure support
To arrange necessary infrastructure for the budding women entrepreneurs in the state
Market connect: Networking support.
Arrange participation of women entrepreneurs in national and international trade fairs to enable them to build business networks and market linkages.
Thus the mission is providing a complete range of support for women entrepreneurs for scaling up their business activities. The WE- Mission Kerala envisages to spread the spirit of entrepreneurship in women of the state and to bring about more women into entrepreneurship and motivating the existing ones to scale up. WE- Mission is a continuous initiative and programs is being carried out in the various districts of the state.
Contact Us
Kerala State Industrial Development Corporation Ltd.
2nd Floor. Choice Towers,
Manorama Junction,
Kochi-682016
Phone: 0484- 2323010